Most Popular Products
About Us
Susmatex is a reputed manufacturer, supplier & exporter of textile machinery. We are well known for knit braiding and narrow fabric machines since a decade and widely acclaimed for our international standard products, viz., Fast Knit Braiding Machines, Warping Machines, Needle Looms, Tape Finishing Machines, Measuring & Winding Machines and Special Purpose Machinery.

Our full effort, devoted for customers' satisfaction, starts from their exact need upto commissioning of the machines. We ensure prompt after sales service and understand customers' production program. We are always on a pace of modernization & improvement of our products, based on field feedback, customers' suggestions, requirements and constant effort on R&D.

Susmatex stands for:
Systems Management
Universal Technology
Superior Quality
Manpower Skills
Automation
True Value
Estimated Cost
X'lent R&D

Our Product Range
We are an eminent manufacturer, supplier, trader and exporter of world class quality products which include:

Fast Knit Braiding Machines

Warping Machines

Needle Looms

Tape Finishing Machines

Measuring and Winding Machines

Special Purpose Machineries.



Our Infrastructure and Quality
Infrastructure is the key to our success. Backed by a state-of-the-art infrastructural abilities and a spectacular market intelligence, we have created a name for itself in a short span of time. Innovation and improvisation are the two pillars of strength. We believe that a customer's needs are ever evolving and a constant need for evaluation and innovation is a fundamental requisite.
Our quality has won many acknowledgments and acclaims from our coustomers worldwide. Each step in the process in carfefully monitored by a team of expert professionals.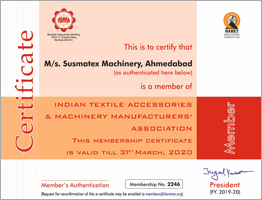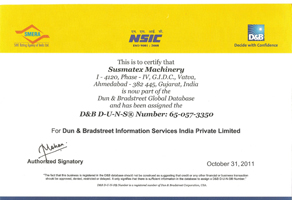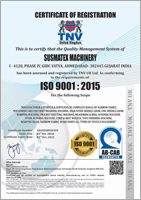 Susmatex Machinery
I/4120, Phase-IV, G.I.D.C., Vatva, Ahmedabad - 382445, Gujarat, India
Phone :+918045804588
Fax :91-79-25841616